Upcoming Workshops
Wimbledon Summer 22
Location:
Wimbledon - The Lecture Hall
Balham Summer 22
Location:
Balham - Endlesham Hall (The Kalos Centre)
Clapham Summer 22
Location:
Clapham - St. Paul's Church Hall
Wandsworth Summer 22
Location:
Wandsworth - The Romany Scout Hut
Blackheath Summer 22
Location:
Blackheath - St. Michael's and All Angels Church Hall
Summer bookings Now Open!
Our Holiday Workshops are a great opportunity for your child to try new and exciting Art and Craft techniques.
Each holiday we use different themes for inspiration from current exhibitions to Brothers Grimm, Picasso, Inuit art, Roald Dahl, Miro, Ancient Egypt and even making poodles for Paris in the Spring time!
We look at all sorts of artists, countries and both historical and contemporary popular culture.
But its not all Art, each of our holiday sites are chosen so the children can run around, play and have their picnics outside at break times and lunch. We end each day with party games and dancing!
What does it cost?
Workshops costs: £45 per child per day. 
We accept Childcare Vouchers. To book will Childcare Vouchers you will need to start your booking online. Once you get to the payment page, email/phone us with the name of the voucher provider and we will complete your booking for you. 
We have a 5% discount per child on a full 5 day week
T's & C's 
Sorry, we have had to impose a strict no refund policy - bookings cannot be transferred. Should we have to close due to government guidelines, we would issue you a refund minus a £10 administration fee.
By booking you consent to your child recieving First Aid as necessary. 
Children must be over 5 years of age in accordance with Ofsted and insurance regulations. 
Where to find us:
Latest workshop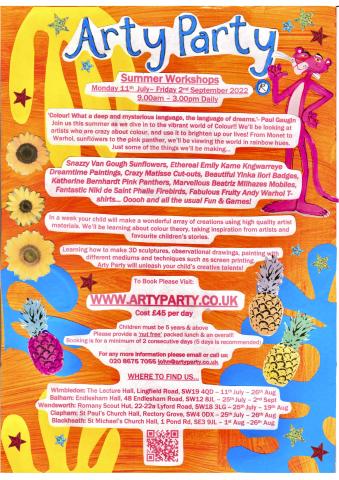 Summer 2022
We are fully insured and Ofsted regulated.